"This site contains affiliate links to products. We may receive a commission for purchases made through these links."
There are many sinks to choose from when looking for the perfect sink for your bathroom, so do you know which one you'll choose?
If not, we are here to give you a list of some of the different types of bathroom sinks on the market so you can find the best one to compliment your bathroom fast.
To see what types of bathroom sinks are on the market, keep reading below.
Read Also: Kraus GV-580 Copper Illusion Vessel Bathroom Sink Review
Wall-Mounted Sink Basin
Wall-mounted sinks can prove to be a space saver in a tiny home or even a small bathroom. Wall-mounted sinks are directly mounted to the wall and will take up less space than console and pedestal sinks.
The best part about these types of sinks is that they don't use up any floor space. This means that if you need to have that extra storage space this sink won't compromise it.
Wall-mounted sinks are very versatile because they can be installed at any height you desire. You can buy them in many colors and finishes and even attach a curtain to the bottom of the sink that compliments your bathroom's decor to help hide the plumbing fixtures.
Read Also:Tips to Create a Luxury Bathroom on a Budget
Under-mount Sinks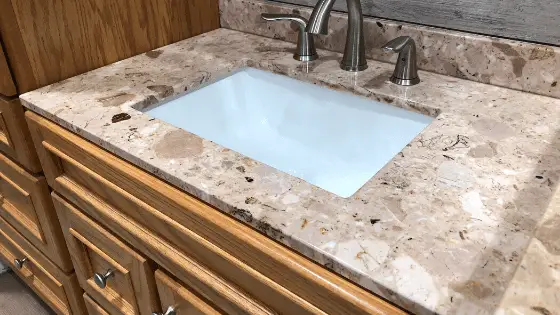 Under-mount sinks are comparable to drop-in sinks because they sit either on top or inside of a countertop. They are installed from below countertops and help to maximize counter space since there will be no lip sitting on top of the counter.
When compared to other sinks the under-mount sink is very easy to clean. This sink style will also help to give your bathroom counter a smooth and modern look. It's the perfect option for any bathroom remodel that wants to look pristine and stylish.
These sinks come in the shapes of a square or a circle. They can be bought in a few colors and even match the style of your counter for a truly flawless appearance.
Drop-in Bathroom Sinks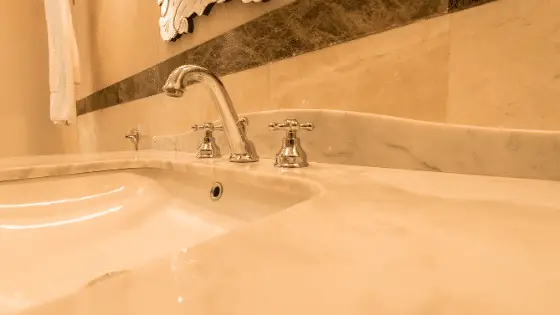 Drop-in bathroom sinks are also known as self-rimming sinks and even top-mount sinks. No matter what you call them, they are probably the most common sink you'll find in a bathroom because they are the easiest to install.
These sinks are already crafted to fit into existing vanities. This is due to the rim on the sink that's made to sit on top of the counter as the basin drops into the vanity through a hole that will be cut out.
These sinks come in a wide variety of shapes, colors, and metal finishes. You can even have your pick of faucets usually also. This means that you can get a drop-in sink that compliments your bathroom's theme or even contrasts it for that perfect pop of color.
Read Also: Best Bathroom Heater for Those Chilly Mornings
Pedestal Sink
If you're looking for a stand-alone sink then the pedestal sink is for you. These stand-alone sinks feature wide basins that sit on a narrow base.
These sinks are mounted to the floor and take up very little floor space. This makes them perfect for smaller bathrooms. The only thing you'll have to remember is that this narrow base won't allow for storage, so if storage is a big must for you then it's time to consider another sink.
The plumbing and hardware are covered up in the base so it won't be an eyesore. Pedestal sinks come in many styles and you're bound to find the perfect base style for your bathroom in no time.
Vessel Sinks
Vessel sinks are the bathrooms sinks that are large and deep. They are usually rounded and they sit on top of bathroom countertops. With this said, you will also find that these sinks referred to as countertop sinks.
These sinks are perfect for people that are looking to achieve a modern style in their home. They can even make a great artistic statement since these sinks can come in a variety of patterns and styles.
Vessel sinks can also be made from many materials. If you're trying to make a statement with your sink you may opt to get a vessel sink that's blown glass. You can even get a sink made of marble or stone for a modern and stylish feel.
What's nice about vessel sinks is that they are elevated and higher than sinks that drip into the counter. This means less bending and makes tasks such as washing your face easier.
Read Also:Moen Lounge Collection Double Towel Bar Review
The only downside to these sinks is that they will require pop-up drains. Some don't mind these drain types and won't look at this as a con, but those who despise pop-up drains may want to consider another sink type.
Console Sinks
Console sinks are also known as semi-pedestal sinks. They are a hybrid of a wall-mounted sink and a pedestal sink.
This sink will be mounted onto the wall and have an exposed basin. The plumbing and hardware will be covered up by a small base that also connects to the wall. If you're looking for a wall-mounted sink to save space but want the hardware to be covered up then this is the perfect option for you. These sinks don't come in a variety of styles and this may be an issue for those who want their sink to compliment the bathroom's decor.
Now You Know Some of the Different Types of Bathroom Sinks
We have given you a list of some of the different types of bathroom sinks that are on the market. From ones that will save space to ones that will make a statement, you should now be able to find the perfect sink for your bathroom. For more plumbing tips and information be sure to check out the rest of our website.
Read Also: Remodeling Your Bathroom on a Budget