"This site contains affiliate links to products. We may receive a commission for purchases made through these links."
According to a survey, women spend around two hours a week doing laundry, while men spend about 35 minutes. Spending over a hundred hours a year repeating the same chore can become monotonous. Pouring detergent, moving clothing items between machines, and folding or hanging clothes once they are done can be quite tiring. But, what makes this process even more boring and exhausting is an unkempt and disorganized laundry room.
Seepage-ridden walls, cracking paint, and scratched-up floors can make your laundry room very unappealing, which can make you keep putting off doing your laundry. Given the amount of time you spend in your drawing room, it should be a haven where you enjoy yourself.
So, if you've decided to revamp your laundry room and are in search of some laundry room paint color ideas, we're here to help!
Laundry Room Color Ideas
Here are some fantastic paint color ideas for laundry room that will create an amazing space for you to do your laundry while enjoying.
Beige
When it comes to choosing a paint color for your home, there's no better choice than a neutral tone. The truth is that folding laundry can be a very calming and meditative process. You can enhance and optimize the Zen of this chore by painting your room a soothing neutral hue, such as beige. Not only is beige easy on the eyes and mind as it brings out the calm side of life, but it also serves as the perfect background for some wonderful decorations.
Aqua
When you think of a laundry room, you probably picture a light and bright space that motivates you to do the monotonous chore of laundry. Aqua is a wonderful color choice to create a soothing and calm vibe that crave. This cool color can be further paired with a sunny yellow to create the ultimate beach vibe in your room.
Read Also: How to Get Started on Your Laundry Room Remodel
Mint Green
Capture the essence of a wonderful and soothing spa experience by painting your laundry room a cool mint green. Mint green is a relatively new addition to the world of contemporary paint colors due to its incredible allure. Moreover, this calming color pairs great with white, grey, and wooden fixtures, giving your laundry room a cozy vibe. If you want to add some additional flair to your laundry room, pair your mint green walls with some patterned wallpaper.
Gray
Gray has been a go-to for modern and contemporary homes for a few years now. The reason gray has become one of the most popular colors is because it has the power to make a small room appear larger and a large room appear cozy. You can pick bluish, blackish, or whitish tones of grey, depending on the aesthetic you're looking for.
Yellow
Since most laundry rooms are small, you have the perfect canvas to go crazy experimenting with different colors. Add some life to your room and a big smile to your face by painting your laundry room walls yellow.
What is the Most Popular Color for a Laundry Room?
Grey tones are the most popular color options for a laundry room. In fact, almost every modern home features at least one grey wall. The fact is that grey tones have a certain allure that can make a space look more modern and on-trend.
A soft grey ceiling paired with darker grey walls can give your laundry room a very put-together feel. You can install white appliances wooden fixtures for some warmth and texture. A medium blue-grey, an almost-white grey, and charcoal grey are some other fantastic grey hues for a modern and contemporary laundry room.
What is the Best Color to Paint a Laundry Room?
Depending on the type of space you want to create, the amount of available room, and the overall style of your home are just a few factors that can impact the paint color choice of your laundry room.
Although there is no one best color for your laundry room, if it comes down to choosing a specific laundry room color, we would have to go with a crisp white.
Given the nature of the task, laundry can be quite monotonous, which is why you should try to create a light and bright space that makes you feel alive. White being the lightest color on the spectrum, is the ultimately bright color choice that can make a room appear spacious, breezy, and airy. Moreover, white can also be paired with a myriad of other colors to create a style of your choice.
For instance, you can pair white with white appliances and storage tools for the ultimate open and breezy look. Another choice would be to pair white walls with colorful appliances and storage tools for a chic look.
Small Laundry Room Paint Color Ideas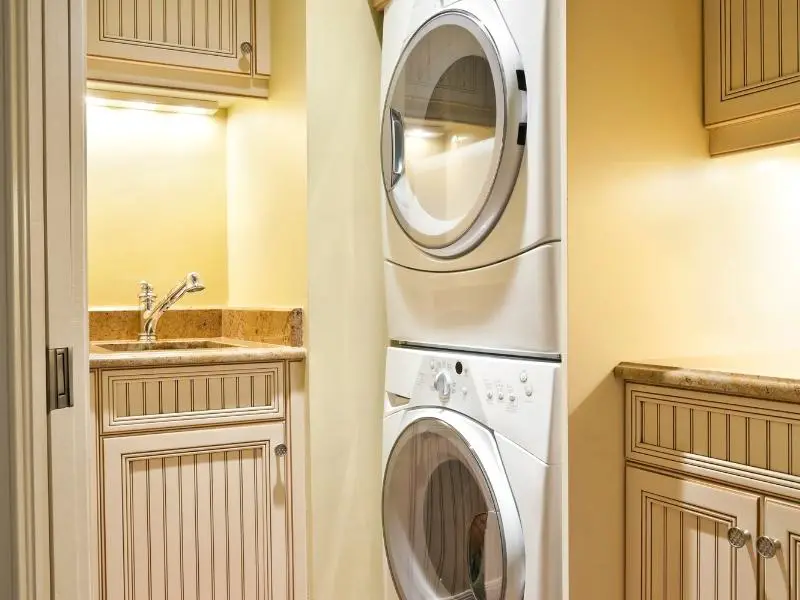 When remodeling a small laundry room, it is essential to find an attractive color that you won't get tired of seeing. At the same time, you also want to ensure that your color choice doesn't make your laundry room appear small that it is. So, for this purpose, it is best to stick with light tones as they make a room appear bigger and more spacious.
Warm, nature-inspired neutral tones are a classic choice for your laundry room. If you want to play it safe but still make your small laundry room look beautiful, warm neutrals like beige and a combination of creams and pale tans are great options. Warm neutral paint tones are an amazing choice to brighten up a small space while making it look comfy and cozy.
The Bottom Line
We hope that our laundry room paint ideas help you find a wonderful color that will soothe your eyes and make your laundry room looking beautiful for years to come.