"This site contains affiliate links to products. We may receive a commission for purchases made through these links."
Your laundry room is an important part of your home. But, despite its significance, your laundry room is most likely pushed at the bottom of the list when it comes to home remodeling. As one of the most functional spaces in your home where you spend time washing clothes, giving this space a much-needed update is more than worth it.
A lot of careful planning goes into remodeling a laundry room. You want to try your best to create a space that is functional, attractive, cost-effective, and enjoyable to use. With some basic room designing tools, including safety, hassle-free workflow, and organizational planning, you can have a unique space that is not only well-operational but also reflects your style.
That said, we have listed the steps to help you get started on your laundry room remodel.
Decide on a Place for Your Laundry Room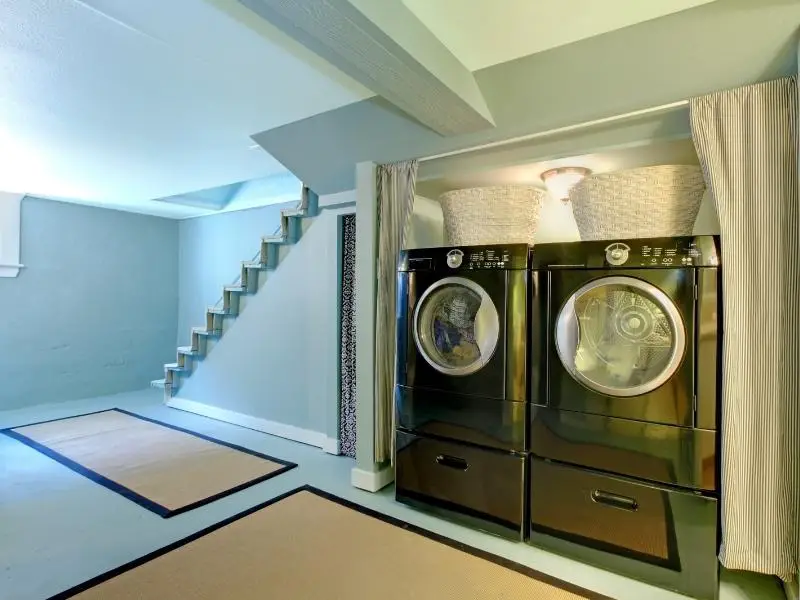 Before you get started on your remodeling, you must decide where you want to place your laundry room. Most homes already have a dedicated space built for this purpose, which is why it makes sense to keep your laundry room here only since the most challenging and expensive job of installing water, drainage, and electrical connections are readily available. However, if you want to move your laundry room, the basement is also a great option as it will cancel out the noise laundry operations out of the living areas.
Read Also: 8 Essential Features to Include in Your Laundry Room Remodel
Budget the Cost of Remodeling
Once you've decided on your laundry room space, it's time to set a budget. Home renovations can be very heavy on your pockets, which is why you must decide in advance how much you're willing to spend. According to Fixr, the average laundry room remodel cost is around $7,000 but it can range from $2,000 to $12,000, depending on the scale of the project.  
The most basic laundry room features cabinets, countertops, and budget-friendly flooring. A mid-range remodel, on the other hand, includes full complement of cabinets, countertops, and high-quality flooring. Furthermore, a high-cost remodel project consists of a full-blown makeover that may include a layout change and top-of-the-line materials, including premium cabinets, quartz countertops, and other extras.
The key to proper budgets for a laundry room is to start with the biggest expenses, such as appliances, flooring, and countertops, and then moving on to adding extra features.
Shop for the Washer and Dryer
Since a laundry room is centered on the washer and dryer, it is wise to start shopping for these appliances early. Your choice of appliances will ultimately dictate the subsequent layout and design of the laundry room. When buying new appliances, take your time to decide whether you want a stacked washer and dryer combo or a side-by-side combo. While both are great options, it all depends on the space you have. For instance, side-by-side appliances might not be the best choice for your small laundry room remodel. Also, since you're already investing in new appliances, opt for energy-efficient ones.
Plan the Room Layout
The only way you can dive into thinking about creative laundry room remodel ideas is if you have the room layout ready. In order to plan your laundry room layout, you must ask yourself why you've decided to remodel the room in the first space. Do you want to update the aesthetic of a room, or are you looking to smoothen the workflow to improve functionality?
Moreover, it's also crucial to think about your existing space – are you alright with current space you have, or are you looking to open it up? Take your time to plan your remodeling project comprehensively so that you're well-organized and end up with a final product that you're satisfied with.
Design Your Laundry Room
Don't let your laundry room miss out on the style treatment that the rest of your home is getting. Design your laundry room to match your home's style or create a new and refreshing space altogether. From calm and soothing paint color to design pieces, don't shy away from limiting your laundry room's aesthetics.  
Go Green
Laundry rooms consume the most power out of all the rooms in a home. Since you're already remodeling, now may be an excellent time to incorporate eco-friendly elements in your room. You can start by opting for energy-efficient appliances, adding large windows or skylights to let the light in, or installing LED lights.
Build Storage
Sometimes, the fundamental purpose of a laundry room remodel is to add storage for a well-organized space. This is especially applicable when it comes to small laundry room remodel. Installing a smart system of wall-mounted cabinets can store a majority of your laundry room essentials, such as detergent or fabric softener. You can also opt for easy storage solutions, such as cubbies or open shelves. The best option, however, is to get a combination of various storage solutions.
When it comes to choosing the material for a storage option, you need to keep in mind that this room is rife with humidity. So, if you opt for a popular material like wood, you will need to ensure that it has a good sealing layer. Some of the best material options for laundry room storage include plywood, rubberwood, or veneer.
Choose the Right Flooring
Although choosing a material that reflects your style is important, you must also remember that this high-traffic room is very likely to endure frequent water, bleach, and detergent spills. The question isn't whether water will find its way to your laundry room floor, but it's more about when it will. Laundry rooms are packed with moisture due to water from the washer basin, outlet hose, and water in the form of moist and humid air.
In this case, the best type of flooring material choice for your laundry room is one that not only resists moisture but also retains its dimensions in case of water spills. Some great laundry room flooring options include luxury vinyl, sheet vinyl, ceramic or porcelain tiles, and concrete floors.
Select Countertops
Just like other materials, you must consider the frequent laundry liquid spills you're going to have on your countertop. Besides this, countertops are also likely to come into contact with dirt, grease, and debris from your clothes. Therefore, you should opt for a non-porous and durable material. High-end quartz is one of the best laundry room countertop options due to its perfect balance of function, style.
Accessorize Your Laundry Room
Complete your remodeled laundry room with some fun and functional gadgets, décor, and accessories, including an ironing board, hanging racks, clothing hampers, and plants.
We hope that these steps help you create a perfectly functional and aesthetic laundry room to make the laundry load feel a little lighter!