"This site contains affiliate links to products. We may receive a commission for purchases made through these links."
Vessel sinks are all the rage in modern bathroom designs since they look stylish and adds class to your bathroom.
There are plenty of choices as well in terms of color and design that allows you to find a perfect one for your bathroom.
When fitting a vessel sink, an important thing to consider is the appropriate height at which the faucet will be, and unfortunately, many people have no clue how high should faucet be above vessel sinks.
Generally, vessel sinks sit higher than under-mount or self-rimming sinks which is why the height of the faucet is not the same as that with other sinks.
Just how there are many types of sinks, there are also many types of faucets, and it should be noted that there are limited types that are compatible with vessel sinks, so your choices are narrowed down.
Nevertheless, you have to make sure that the faucet you are installing with the vessel sink sits at an appropriate height.
If the height is incorrect, using the faucet will be inconvenient, and there will be splashes. You could even hit your head when washing your face in the sink.
Of course, nobody wants that so here are things you ought to know.
How High Should Faucet be Above Vessel Sink?
Where the faucet is fixed depends on the type of faucet you are going for. To better understand what that means, let's quickly go through the different options of faucets in the case of vessel sinks.
Types of Vessel Sink Faucets
1. Vessel Faucets
These faucets are specifically designed to complement vessel sinks. They are tall because vessel sinks sit on top of the vanity counter. They typically have a single handle that is used for both cold and warm water, and they come in a plethora of shapes, styles, materials, and colors.
Single-hole faucets can be fixed in the predrilled hole on the sink. They can either have a single handle or two. These are not that common with vessel sinks, but there are some vessel sink designs, usually the rectangular ones, that can accommodate this type of faucet.
Wall-mount faucets can be used with your vessel sink provided you have a wall-mounted valve and drain.
They usually come with two handles, but there are models with a single handle as well. The styles and shapes of wall-mounted faucets vary a lot, and the spout length is significant for these faucets.
There are few other types of faucets as well like the center set that requires three holes in the basin and is used with self-rimming, freestanding, and under-the-counter sinks.  
Now that you know your faucet options, let's move to the main question, which is "How high should faucet be above vessel sink?"
The Best Bathroom Faucets For Home >>
The Appropriate Faucet Height
If you are a DIY person who would be fixing the faucet by yourself, you have to be extra careful. Even though most faucets come in standard lengths and sizes, where you place them is very critical since even a small error can render your whole effort useless, and you will have to seek a plumber's help ultimately.
Also, if you are installing the vessel sink and the faucet all by yourself, make sure to measure everything accurately and consult a professional. There are plenty of variations within the vessel sinks too. Some are deeper than others.
1. All Types of Faucets
The faucet should be fixed high enough so that there is a distance of at least six inches from the bottom of the spout and the bottom of the sink.
Regardless of the type of faucet, this is a decent distance between the faucet spout and the sink to give you the ease to place your hands. It will also be kid-friendly as they will be able to reach the handles and wash their hands.
2. Vessel and Wall-Mount Faucets
You do not really have to worry about the height so much as you have to worry about the placement in the case of vessel sink faucets. These are usually 12 to 17 inches long.
Your goal is to position them in a way that the spout is directly over the drain. If it is not in the center, you have the risk of splash back that could wet the counter and your bathroom every time you wash your hands. You should carefully create the hole in the counter to make sure the spout stands on top of the drain.
Same is the case with the wall-mounted faucets. These usually come with long spouts for this reason only. Again, the placement should be at a position that there is at least six inches distance.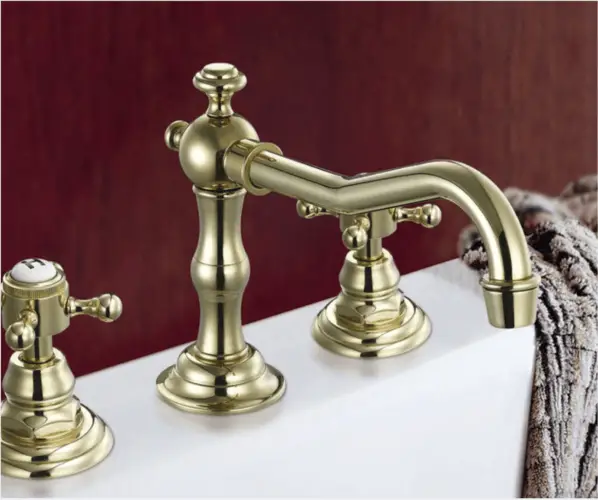 3. Vanity and Countertop
One more thing to consider even before installing the faucet is the height and position of the vanity. Since the vessel sink sits on top of the counter, the vanity's location has to be lower than usual. 
This means the cabinet needs to be lower as well. If you keep it at a height common for other types of sinks, the vessel sink, and the faucet will be too high, especially for kids.
If your counter is wood or laminate, you should be able to drill the hole by yourself. For marble or granite, you will need professional help.
There are pre-drilled vessel sink counters too that take all the guesswork out, and all you have to do is place them and then place the vessel sink.
The Final Words
Vessel sinks are still very trendy and can be found in bathrooms in luxury hotels and high-end restaurants. They look quite elegant, and there are just so many choices.
Whatever the color of your bathroom is, you can find a complementing vessel sink and faucet to go with it. You can choose the type of faucet you like as long as it has at least six inches between its spout end and bottom of the bowl.
Ideally, you should not have to bend all the way to wash your hands. Also, when washing hands, they should not touch the spout or the bottom of the sink. Usually, the faucet is placed after the sink has been installed, but you can go the other way around if you want.