"This site contains affiliate links to products. We may receive a commission for purchases made through these links."
If you are contemplating about getting a home bidet toilet seat, you sure want to know more details about it to help you decide if it is going to be worth it. What does it really do and why are people using it?
The term bidet has generally been described as a hygiene device which uses water to clean our private areas.
While its use promotes comfort because of its functions and advanced features, they are becoming increasingly popular these days too especially among those with physical disabilities.
There are units specifically designed to promote independent toileting allowing people with limited mobility or requiring assistance to experience independence.
Read Also: Best Bidet Toilet Seat
How much will it change our toilet experience? Will it be worth our money? On this post, we will discuss details about its benefits, its controls, its functions, and additional features that make people choose to use it.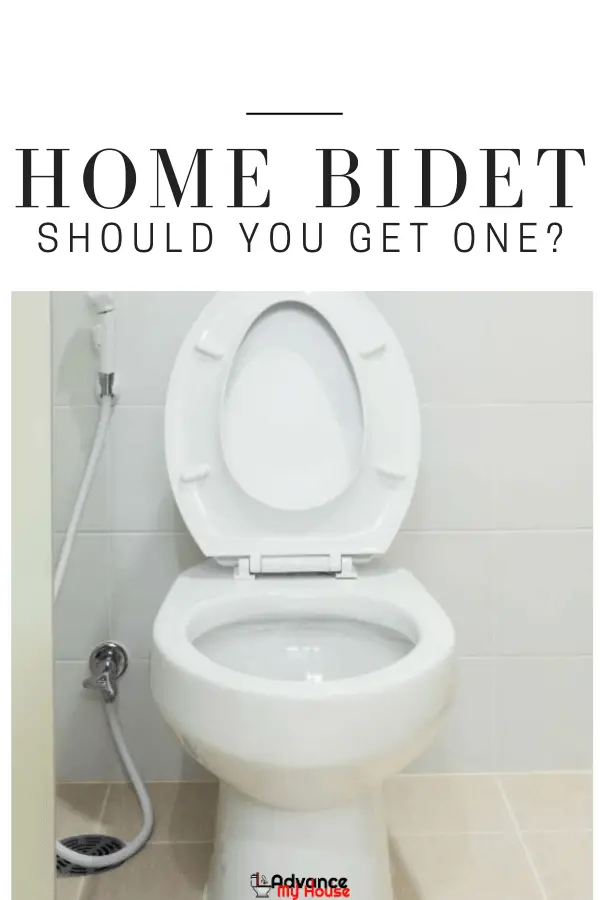 Home bidet toilet seat: Wipe or Wash? 
Besides being more sanitary, there are some environmental advantages of using a bidet because it saves us from using paper. Some say its use actually wastes water, but some advocates say that the amount of water used to produce toilet paper is trivial.
There are other important factors to consider depending on the type of bidet toilet seat which can be electric or non-electric. There are types that offer heated seat function, some have adjustable water temperature which allows you to cleanse with soothing warm water, and some models even include air dryer feature which will automatically work after rinsing.
Read Also: Best Dual Flush Toilet – Top 5 Recommendations
Electric bidet toilet seats come in multiple designs and offer a level of luxury and comfort which may not be allowed by non-electric bidet seats. Most of them include features like heated seats, night light, warm water washes, adjustable water temperature and water pressure, custom wash settings and more.
Non-electric bidet seats, however, lack a few options but they have their own advantages as well. They are the most eco-friendly toilet seats out there which also offer multiple custom wash settings and water pressure adjustments too.
Read Also: Bidet Toilet Seat Ratings
Why Should You Think About Getting A Bidet? 
Conserve Waste and Save the Earth
Compared to the conventional toilet paper, the use of bidet is much less stressful to the environment. In order to sustain the toilet paper industry, there will be significant amounts of water, energy and other materials that will be used.
You can eliminate 90% of your toilet paper use by using a bidet. We can reduce overall paper waste by cutting back on our own consumption of toilet paper.
Increased Cleanliness 
You can pretty much clean your private areas with the use of toilet paper, but more or less, there will be some residue left. Water, being the universal solvent, is definitely more useful at cleansing your skin; it reduces the risks of bacteria germinating.
Moreover, there are bidet seats with the capability of washing, rinsing, and even drying your private areas with just one button on the remote control. There will be no need to for you to touch that area, you will only need to seat, press a button, and then wait.
Therapeutic Effect
The use of toilet paper often results in abrasions on your sensitive areas or irritations due to perfumes that can be present on some toilet papers. The use of bidet, on the other hand, provides a more soothing experience and benefits people, especially those with hemorrhoids.
For Women, New Mothers and Senior
Menstrual periods make women feel unfresh and uncomfortable and washing with water will definitely make them feel clean instantly. Meanwhile, mothers who recently gave birth will experience extra sensitivity in their private areas, and the use of a bidet with its controllable wash features can be relaxing and soothing.
Read Also: Chrider Bidet for Toilet Product Review
Furthermore, going to the restroom can be a difficult task for seniors but having someone to assist them in cleaning themselves might lower their self- esteem drastically. Thus, the use of a bidet can help them regain independence and restore confidence too.
Advanced Features and Cost Effectiveness
Bidets come at different types and prices. Nowadays, the majority of these products are affordable and are worth the purchase. The more expensive ones only have added features which are more luxurious, but one thing is for sure—bidet toilet seats have been designed to provide comfort and are all easy to use.
There are different advanced features that make your bathroom experience uncomplicated and more fulfilling than ever. Some of them include rear and front wash, night light, adjustable water temperature and pressure, has a gentle-close lid and comes with a reliable remote control which makes almost everything automatic.​
FINAL VERDICT
After laying out the uses of a bidet as well as its benefits and features, by now you may still be asking if having a home bidet toilet seat is going to be worth it. From an environmental standpoint, there is no proven study yet saying that we are promoting an eco-friendly environment with its use versus using a toilet paper or the traditional way of washing.
If we highlight its health benefits, we can say that it really gives a soothing experience due to its capability to adjust the water temperature, its heated seat and the like. We can also agree that it is highly hygienic because nothing beats cleanliness with the use of water.
Furthermore, despite all of the benefits and facts that we have stated above, we still like to remind you that you are the only one who can determine whether you need to upgrade your current toilet experience to the next level or not. Do you need it? Do these benefits fit your situation? Are you comfortable using it?
Your decision will only be worth all the change and the costs if you will be getting it based on your needs, and not just because you feel like you have to because people talk about it a lot. You go for it if you agree with the points above.