"This site contains affiliate links to products. We may receive a commission for purchases made through these links."
The laundry room is one of the most significant and functional spaces in your home. So, it makes sense to organize and utilize every inch of space you have available to make it fully functional. If you're wondering how to organize a laundry room on a budget, you're at the right spot! We have created a list of some super simple laundry room organization ideas to organize your detergent, dryer sheets, and other essentials to ensure the smooth flow of this tiring task.
1. Install Practical Box Shelves
Box shelves are a fantastic option that works well in both formal settings and utilitarian rooms, such as the garage or laundry room. The versatility of these shelves is unmatched as they offer unlimited uses and arrangements. You can make the best use of box shelves in your laundry room by hanging some above the dryer and washer to store detergent, dryer sheets, and other essentials. That way, you'll be able to keep things organized by taking up minimal floor space.
2. Install Behind-the-Door Shelves
One of the best places to start organizing your laundry room is from a place you wouldn't generally think of – the door. The space behind your laundry room door is a potential storage spot that is often overlooked. However, this is one of the most brilliant ideas for small laundry room organization that can benefit you for years to come.
Install a set of readily available shallow shelves behind your laundry room door for some extra space. This is an easy DIY project that requires a drill machine, screws, studs, a rubber bumper to protect the door frame.
3. Build Laundry Room Wall Cabinets
Wall cabinets are perhaps one of the most premium organization ideas for a laundry room. A wall cabinet can help you utilize the wall space above your washer and dryer by turning it into a dust-free storage space. Remember to set a space for your washer and dryer first so that you can determine the ideal size of your cabinet.
4. Get Instant Laundry Room Cubbies
You don't need to worry if you don't have any pre-installed cabinets or shelves in your laundry room. For better organization, you can simply build your own wall of cubbies using inexpensive plastic crates. Screw the crates to the wall studs and use a fender washer in the upper corner of each crate for extra reinforcement. These easy-to-install laundry room cubbies are suitable for holding multiple supplies and making your room look more organized.
Read Also: Best Towel Bars: Function and Beauty For Your Bath
5. Install Hanging Racks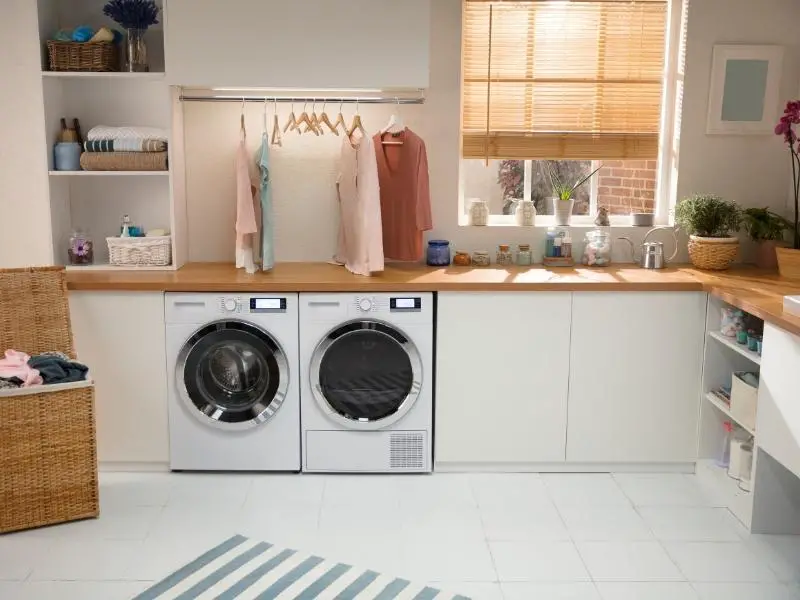 If you have cabinets or shelves right above your washer or dryer, you have the perfect spot to store your clothes on hangers. All you need to do for this space-saving technique is to mount a towel bar at the bottom of the cabinets. Installing these hanging racks in your laundry room makes it convenient to hang up shirts and other clothing items that are fresh out of the dryer. That way, you won't have to deal with wrinkled shirts lying at the end of your basket.
6. Get a Laundry Workbench
A sturdy workbench can go a long way in keeping you comfortable while you engage in the tedious chore of laundry. If you want to protect your bench by making its surface smooth and easy to clean, apply two coats of polyurethane varnish with a water-based finish.
7. Get a Slender Laundry Room Cart
Most laundry rooms have some narrow space next to or between the washer and the dryer. This space is often either wasted or is a hideout for socks and lint. So, one of the best ideas for small laundry room organization is to take advantage of this space, which you can do by building a simple and skinny laundry room cart on fixed casters and placing it in this space. You can then use this slender basket to hold detergents and other laundry supplies, helping you to free up your cabinets for other purposes.
8. Get a Quick Dryer Shelf
If you want a simple and easy way to clean up the clutter of detergent boxes, fabric softeners, bleach bottles, and other laundry room items, install a wooden shelf above the washer and dryer. You can do this DIY project by screwing ordinary shelf brackets to the wall and mount a simple board that can help you clear out the mess.
9. Mount Dryer Racks to the Wall
Mounting a foldable dryer rack to the wall is another great way to save up a lot of effort and precious floor space. You might not be able to mount enough racks to the wall for all your laundry, but installing even a rack or two can help considerably. When the racks aren't in use, you can fold them up so that they don't interfere with your washing or folding.
10. Make Use of Mesh Baskets
Dealing with dirty laundry is a task in itself, which is why keeping your laundry room organized can help significantly in making laundry easier for you. Make use of sleek mesh baskets by labeling them so that you can easily sort out your dirty laundry. Instead of one huge laundry basket, smaller mesh baskets can help divide your delicates, colors and whites. Moreover, another benefit of using wire mesh baskets is that they help air out dirty clothes before washing.
11. Build a Countertop
You can save your washer and dryer a lot of scratches and yourself a lot of hassle by installing a sleek wooden countertop that goes over your machines. Setting up a fixed or foldable countertop over the machines will provide you with a great working spot while saving lots of space. Countertop over the washer provides you with a great working spot
12. Install a Laundry Chute
A laundry chute can make your life considerably convenient if your laundry room is located in the basement. You can save a lot of space in your laundry room by getting rid of all extra clothes hampers and installing a laundry chute instead. Moreover, in addition to space-saving, a laundry chute will also help you save your energy with fewer trips up and down the stairs.
We hope that our ideas listed above offer you valuable insights regarding how to organize a laundry room for a smooth workflow so that even the most draining household chore of laundry becomes fun and easy!